The Windsor Hotel
The independently owned Windsor Hotel and Self-Catering Apartments stand proudly on the edge of Hermanus's breathtaking Walker Bay with a panoramic vista featuring the world's best whale-watching available in most rooms.
Southern Right whales have been breeding and feeding here for centuries (July – November) and our guests have been returning, generation after generation, to delight in this spectacle.
The 120-year-old Windsor, near the town centre and its rich variety of restaurants, galleries and shops, has been modernised but steadfastly retains its family atmosphere with home-from-home hospitality.
A stunning 120km drive from Cape Town brings you to the famous champagne air of Hermanus, where you can relax in comfort at the venerable Windsor or enjoy a wide variety of gentle or adventurous activities.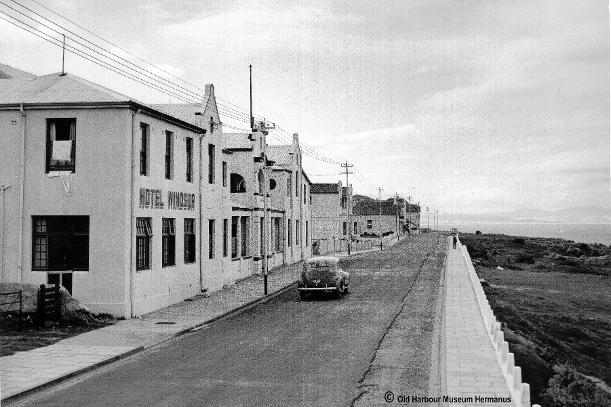 The Windsor Hotel was built in 1896 as a sanatorium by Dr. Joshua Hoffmann. In 1931 the sanatorium was purchased by Mr. David Allengensky and was converted into a hotel which he named Windsor Hotel. In 1981 the Windsor Hotel was purchased by Basil Clark-Brown. Garth Clark-Brown took over from Basil in 1996 and is the owner to this day.
Our Hotel Bedrooms are located in the original building of the hotel. Our Sea Facing Rooms feature a panoramic view of Walker Bay. Beds can be configured as a king or twin at your request. All rooms have an en-suite bathroom and ground floor rooms feature a small patio. Free WiFi and safe parking is available for all our hotel guests.
Our apartments feature a spectacular ocean view. We have 3 bedroom and 2 bedroom apartments available. Each apartment has 2 bathrooms. The main bedroom has a sea view and an en-suite bathroom while the remaining rooms have a partial town view. The lounge has a sea view and opens up onto a balcony. The apartment also includes a fully equipped kitchen, free WiFi and safe parking for all our guests.
We have 2 venues available for conferencing. The Whale Room can accommodate up to 120 people cinema style and up to 80 people classroom style. The Dolphin Room can accommodate up to 60 people cinema style and up to 30 people classroom style. We require conferencing groups to spend the at least one night in the hotel.